One unknown (ex-)pro rider. One bike. One time. That is The Styxx..
From Saturday 26 March to the World Cycling Championships on Sunday 25 September, we challenge you to break The Styxx's time and unmask him. On a course of 75km The Styxx will set a target time. Can you do better? Or do you just want to measure yourself against a (former) pro? Or do you have an all-seeing eye and can you find out who The Styxx is? Take part and win great prizes.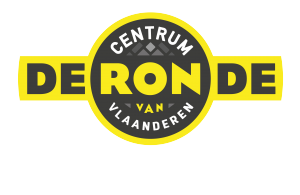 Powered by



The Route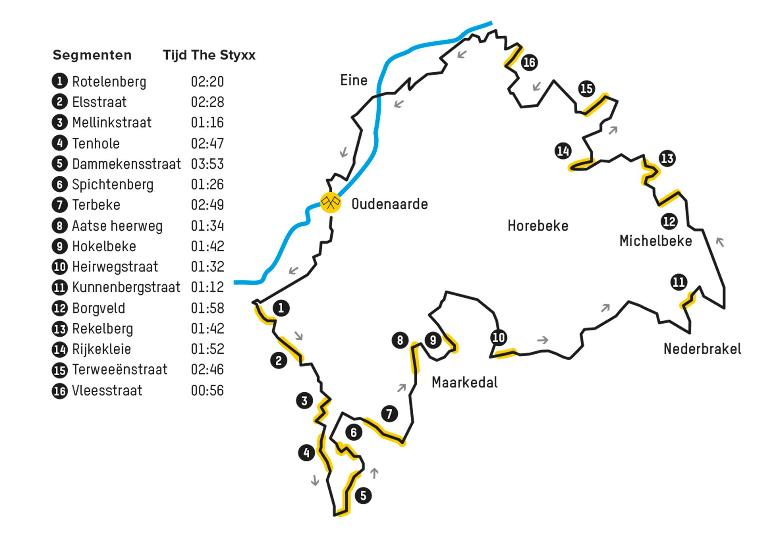 Participate?
Measure yourself with The Styxx

Step 1: Download the Strava app and create an account. (Skip this step if you already have one).
Step 2: Create a Styxx account below.
Step 3: Download The route.
Step 4: Sign up at the Ronde van Vlaanderen Centre and receive a segment sticker to attach to your frame so that you can keep a good overview and a unique back number (not compulsory).
Step 5: Click into your pedals and start your ride.
Step 6: Enjoy a refreshing shower at the Centre Tour of Flanders (2 euros) and refuel at the Peloton Café ;-)
Step 7: Go to the arrival attraction and generate your personal souvenir.
Step 8: Go home with a richly filled goodie bag from our partner Cycling Vlaanderen
Uncover The Styxx
Step 1: Keep an eye on our social media and this page for tips.
Step 2: Do you have any idea who The Styxx is? Let us know on this form. Please note that you can only place one bet. So it's up to you to decide when you are confident enough to make a bet. But don't wait too long, there are plenty of bidders out there.
Safety First
Veiligheid staat voorop. Om alles zo veilig mogelijk te laten verlopen, hebben we volgende maatregelen getroffen:
1. Bij het uittekenen van het parcours werd zoveel mogelijk rekening gehouden met verkeersarme baantjes, verkeersvrij bestaat echter niet.
2. To avoid unnecessary risks, the time is not determined by the difference between start and finish times, but the times of 16 Strava segments on the course are added up. This way, there is no pressure when crossing streets, a closed railway crossing or a red light. The maximum time difference between the movement time and elapsed time is limited to 20 minutes. This gives enough margin to drive safely, but still no longer breaks can be taken and a fair competition is guaranteed.

3. We rekenen op jullie gezond verstand. Neem geen risico's, daar win je door de getroffen maatregelen niets mee.

Prices
Top 3 - Mannen
1. Twee duotickets voor een VIP- beleving tijdens de Ronde van Vlaanderen op de Oude Kwaremont
2. Full dynamic Guru bikefit incl. zadeldrukmeting twv €250
3. Piste-initiatie met 7 vrienden
Top 3 - Vrouwen
1. Twee duotickets voor een VIP- beleving tijdens de Ronde van Vlaanderen op de Oude Kwaremont
2. Full dynamic Guru bikefit incl. zadeldrukmeting twv €250
3. Piste-initiatie met 7 vrienden
Ontmaskeren The Styxx
1. Twee duotickets voor een VIP- beleving tijdens de Ronde van Vlaanderen op de Oude Kwaremont
2. Jaarabonnement op Het Nieuwsblad
3. Grinta!-box
Prijzen te verdelen onder alle deelnemers
Assos Mille GTC broek twv €140
Twee g ratis onderhoudsbeurten bij Fietsen Jowan twv €80 (excl. wisselstukken)
Uma GTC dames korte broek twv €140
Wieleroutfit Canary Hill
Grinta!-box
Twee fietspompen Specialized
W ielershirt Cois Cycling
Drie paar fietssokken Cois Cycling
D uoticket VIP RVV